What is the number one question sellers are asking when getting ready to list their home?
"HOW MUCH IS MY HOME WORTH?"
Majority of home owners ask that question at least once before getting ready to list their home. Why? Most of the time people are selling their home because they are moving, growing their family, or down sizing and with that being said they are looking to buy another home. With that being said, you must know what your home is worth in order to know what you can spend on purchasing your new home. Just like a cycle.
But today I am telling you what 4 Factors are Most Important when deciding on How Much Your Home Is Worth!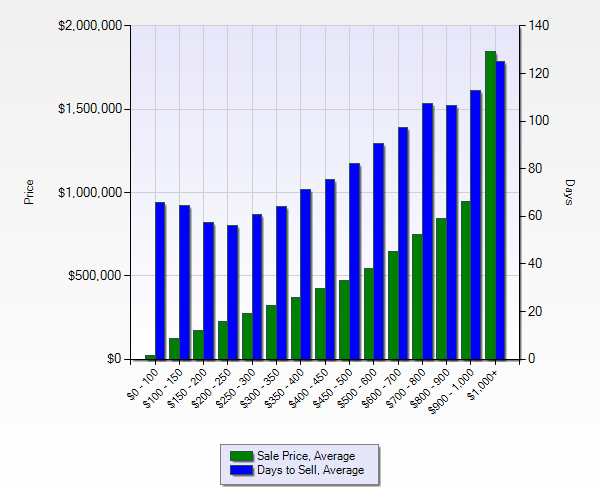 (Above is a chart to give you an idea of what homes are selling for and about how they stay on the market.)
1. Location!
Location is everything! What people are looking for in location are schools, entertainment and crime rate. Buyers are even looking at where exactly your house sits such as it being right off of a busy road or in the middle of a neighborhood (corner lot).
LOCATION is a MAJOR Factor when deciding what the price of your home will be.
2. Comps!
Comps – also known as comparable's. Comps compare to recently sold homes in your neighborhood.
3. Condition!
Buyers LOVE a move in ready home in perfect condition. Buyers are known to pay up to $20,000 more to have a move in ready home.
If you can't make updates to your home it's ok. Your home will still sell. Probably STILL over asking price in today's market.
4. Updates!
Any updates you do prior to selling your home will still have a positive impact. No matter what kind of update your making. Roof repairs, updating flooring, any kind of kitchen repairs are great. BUYERS LOVE THEM!
Is Under Pricing A Smart Idea?
Over pricing is a bad idea even with the marketing being a "Sellers Market" If a home is over priced it won't necessarily take longer to sell.. it just won't sell until the price is right.
While Over Pricing Turns Buyers Off Under Pricing Does Just The Opposite.
In a Buyers Market listing your home just under market value helps it stand out. However if you go to low on asking price buyers may think that there is somethings wrong with the home.
Pricing to low in a sellers market can become a problem. Grossly under priced properties in a hot market says that the seller is angling for an all out biding war and that could scare off potential buyers.
Under pricing is also a good strategy when you want to expand your buyer pool.
How to Tell Your Home is Priced Just Right!
If no one ever priced their home for more than recently sold comps, homes would never rise, right?
So how exactly do you determine the right price for your home? ASK YOUR AGENT!
Before settling your agent will do a CMA (Compared Market Analysis) to evaluate what homes in your neighborhood/area are selling for. Then they will look at the differences in the house just as… Location, Condition, Upgrades/No Upgrades, etc. That's how they will determine the perfect listing price for your home.
In some cases your agent may even suggest you listing for more than recent comps sold for. For example if comps are older than 6 months+ the agent may recommend a higher listing price.
In a sellers market (which is today's market) your home will get many offers if it is priced just right.
You must always agree to the listing price.
________________________________________________
We hope this information is very helpful for you when getting ready to sell your home!
Considering Selling??? ACT NOW!
Great Schools For Mansfield Texas | Great Schools Arlington Texas | Great Schools Burleson Texas | Great Schools Kennedale Texas